Kristina Mlakar - NATIONAL OPERATIONS MANAGER AND PROJECT LEAD
M.Sc.SM. - Sustainability Management, University of Toronto Mississauga
B.Sc. - Earth and Environmental Sciences, McMaster University
Kristina Mlakar is a National Operations Manager and Project Lead with CUTRIC, based in Toronto. She is currently responsible for managing the internal operations of CUTRIC to create unison across the national team. Ms. Mlakar is also leading the National Smart Vehicle Demonstration Project; she has a keen interest in autonomous and connected vehicle technologies and concomitantly focused her Master's research on the topic. In addition, Ms. Mlakar is working to build up CUTRIC's social media platforms and presence to broadcast innovative low-carbon smart mobility solutions showcased locally and globally to spur conversations around the topic. She previously worked as a Research Assistant with the McMaster Research Group for Stable Isotopologues, and completed her undergraduate thesis in stable isotope geochemistry and paleoclimatology.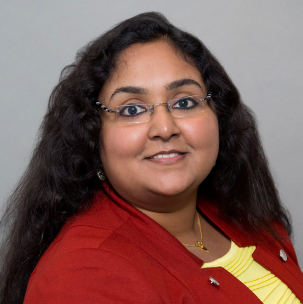 Parvathy Pillai - Hydrogen Fuel CEll Bus Program Lead & Ontario Projects DEvelopment Officer
Certified Associate in Project Management (CAPM)
M.Sc. - Global Health
Hon. B.Sc. - Life Sciences
Hon. B.Sc. - Chemistry
Parvathy Pillai co-leads the Pan-Canadian Hydrogen Fuel Cell Vehicle Demonstration & Integration Trial Phase I at CUTRIC and also functions as an Ontario Projects Development Officer. She is a trained researcher and has a strong background in project management, stakeholder engagement, and knowledge translation.
SHervin bakhtiari - GIS Analyst & outreach officer
B.A. - Urban Planning, Concordia University
AdvDip - Architecture, BoxHill Institute
Shervin Bakhtiari is the GIS Analyst and Outreach Officer with CUTRIC in eastern Canada based in Montreal. As a member of modelling team, he is responsible for geospatial data analysis to assess the potentials of bus networks electrification. He also examines the development of TRiPSIM © modelling tool for potential opportunities regarding the automatization and optimization of the modelling process. His greatest interest lies in transportation planning and network analyses with the aim to bring sustainability and GHG emission reduction to public transportation. Shervin holds a Bachelor's degree in Urban Planning from Concordia University and an Advanced Diploma in Architecture from Box Hill Institute.
GENEVIÈVE GITTINS - Communications Liaison
Geneviève Gittins is the Communications and Marketing Officer at CUTRIC. She organizes CUTRIC Lobby Days and designs the supporting visual materials to communicate our messages to governments. Previously, Geneviève led the marketing department at Enterprise CarShare and Communauto. She holds a Bachelor of Commerce degree from McGill University and is fluent in French and English and conversational in Spanish.

Michael Keran - Accountant
B.Com. - Accounting and Finance, McMaster University
Michael Keran provides accounting and financial support to CUTRIC.
Anaissia Franca - RESEARCH STRATEGY MANAGER
M.A.Sc. - Mechanical Engineering, University of Victoria
B.Eng. - Mechanical Engineering, University of Victoria
Anaïssia Franca is the Research Strategy Manager of CUTRIC. She leads the modelling and simulation efforts on the Pan Canadian Electric Bus Demonstration and Integration Trial (Phase I and II), the Pan-Canadian Hydrogen Fuel Cell Vehicle Demonstration & Integration Trial (Phase I), the National Smart Vehicle Demonstration Project and the Natural Gas Mobility Innovation Project. Her work has greatly contributed to develop CUTRIC's feasibility study capacity to support transit agencies electrifying their fleets. Anaïssia holds a Masters of Applied Science in Mechanical Engineering and a B.Eng in Mechanical Engineering, both from the University of Victoria.
Dr. Yutian (Ryan) Zhao - RESEARCHER AND NATIONAL PROJECTS DEVELOPMENT OFFICER
Ph.D. - Chemical Engineering, Queen's University
B.Eng. - Chemical Engineering, Zhejiang University
Yutian (Ryan) Zhao is a Projects Development Officer at CUTRIC, based in Kingston, Ontario. He is the project lead for Rail Innovation Focus Group Consultation Sessions. He is also responsible for developing projects from Kingston and north-eastward to Ottawa. In addition, Dr. Zhao assists with CUTRIC's research initiatives, including mathematical modeling and simulation for transit buses. His prior research background focused on mathematical modelling of producing branching polymers. Recently, he extended his field to data science and machine learning. His interest in green energy and care for the environment provides him with the passion to work on the emerging technologies involved in the uptake of electric trains, cars and buses.
Adriana Shu-Yin - Membership success officer & contracts administrator
B.Sc. - Environmental Science and Health, University of Toronto
Adriana Shu-Yin is a Junior Coordinator at CUTRIC in Eastern Canada, based in Toronto, Ontario. She will be assisting with the organization's governance and outreach efforts. Ms. Shu-Yin is passionate about smart and sustainable solutions to enhance greenhouse gas emissions reductions. Her education and prior work experience has focused on the acceleration towards a low-carbon economy using clean technology and policies that promote economic, social, and environmental benefits. Previously, she completed climate change and sustainability projects with ICLEI - Local Governments for Sustainability as well as the University of Toronto Sustainability Office.
Dr. Cristina Guzman - Research Fellow
Ph.D. - Electrical engineering, University of Quebec at Trois-Rivières

M.Sc. - Electrical engineering, University of Quebec at Trois-Rivières
Cristina Guzman is a researcher fellow at CUTRIC. She is currently a Mitacs Elevate Postdoctoral Fellow with the University of Quebec at Trois-Rivières. She primarily supports research on Energy storage integration for high-powered electric buses for the Pan-Canadian Electric Bus Demonstration & Integration Trial (Phase II), performing simulations for the estimation of the impact of high power charging infrastructure into the electric grid. Dr. Guzman also provides optimal charging and scheduling solutions for the integration of ultra-fast fleet buses supporting decision-making for the electric infrastructure deployment projects. Her background experience in her Master's and Doctorate research studies on the integration of distributed and renewable Energy, Energy management and Energy storage serve to contribute to the CUTRIC's zero emissions initiatives. She has been member of the Institute of Electrical and Electronics Engineering (IEEE) since 2009 and has contributed many articles in journals and conferences.